_ - Chapman Grand Stickist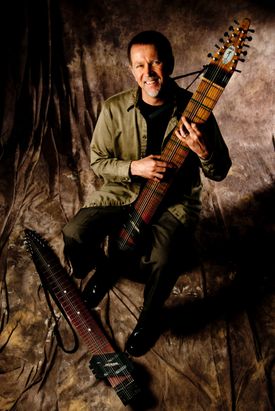 Léo A. Gosselin is a pioneer and master of a radically   new technique on strings. The Chapman Stick Touchboard, invented by Emmett Chapman in 1974, represents a revolution in stringed instrument technology. The "Stick", designed in 8, 10, and 12 string versions (the right hand tuned like a guitar, the left like a cello in reverse), is played percussively, with both hands free to sketch melodic lines in the manner of a keyboard.
Léo has been exploring the musical possibilities of the Chapman Stick since 1976 when, at the age of 21, he saw someone trying to play the instrument in his home town of Winnipeg. He had been playing the guitar for eleven years, and did not try the "Stick" before ordering his first one, so the difficulty in mastering the instrument came as somewhat of a surprise. However, tenacity and patience paid off, and he has been playing publicly for a variety of appreciative audiences since 1984.
Léo has received a number of federal and regional arts grants as well as other awards for his accomplishments on "Stick." He studied at the Dick Grove School of Music, Los Angeles, and Capilano College in North Vancouver, completing a Diploma in Commercial Music, as well as further studies in jazz. His appearances include TV, radio, and many live performances including Expo '86, the Winnipeg Folk Festival, Edmonton International Street Performers Festival in 1999 and 2001, the 1999 Pan American Games in Winnipeg, and even played for the Prince of Wales in 1996. He has performed for a wide variety of functions, including weddings, concerts, festivals, dining rooms, corporate meetings, as well as educational presentations.
For the last few years, Leo has been performing live at festivals throughout the Southwest, including the Tempe Festival of the Arts, the Tucson Museum of Art, the Tubac Arts and Crafts Festival, the Scottsdale Art Festival, as well as Northwest festivals in the Washington area including Edmonds, Anacortes, Coupeville, and several others.  
Léo has recorded seven albums currently available as CD's. "Border Crossing," as the title suggests, crosses stylistic borders from bluesy jazz to Latin, New Age, and Celtic. It is a solo voyage through musical genres. "Potpourri" highlights Léo's mastery of this unique instrument in four themes: Celtic, ballads, Latin/jazz, and originals. This album includes supporting musicians that add their own personal touch to the project. "Dream Waters" is a solo album that brings a sense of comfort and peace to the listener. "Celtic Vision" is a collaborative effort focusing on traditional Celtic music with guest artists on Irish whistle, violin, percussion, and synthesizer. "Vintage Flight," a solo album, is a musical flight through many of the most memorable easy listening jazz pieces of the 40's and 50's. Léo's  "Christmas Traditions" album highlights the "Stick" with four-handed arrangements and counter melodies written for traditional carols that make this a truly memorable Christmas experience.  Leo's latest album, "Lovestream" was produced in 2009, and is a solo album featuring six cover tunes originally recorded by such artists as Eric Clapton, Sting, the Eagles, Van Morrison, Elton John, Willie Nelson, as well as five of Leo's original compositions.
Leo completed a new album of original solos that is titled "The Longing" and includes twelve of his unique and original compositions. Some of the compositions are "Gypsy Shuffle","Sweet Nothings","Memory Meadow","Seaward Waltz","Thoughts Of You",and "Winnie's Crossing". The new album was released in November of 2012.